Commercial Window Cleaning
---
We understand the importance of presenting a fresh appearance to your customers. A company's appearance often reflects quality, and having clean windows speaks volumes. We'd be happy to work with you to provide a positive experience for your customers when they walk through the door.
It's also important to clean the windows not just for the customers, but for  employees as well. Having windows cleaned can actually increase productivity from employees and can have a positive effect on their moods. It also shows that you care about the small details. A recent study done by Cornell Professor, Alan Hedges, shows that employees who receive optimal daylight experience reduced eye strain and headaches by 84%. Another study published by the Journal of Clinical Sleep Medicine in 2014 shows those employees who were exposed to more sunlight were more likely to have more physical activity and sleep longer than those who were limited to their exposure to sunlight. The same study estimated that for every 100 employees that did not receive adequate sunlight had caused $100,000 loss in productivity. Clean windows have a larger effect on people than we realize.
The frequency of a cleaning that is needed can depend on how much foot traffic your business receives. Many storefronts and restaurants need to be done at least once a month if not more. Larger commercial buildings need to be done at least once a year, though it's best if done quarterly.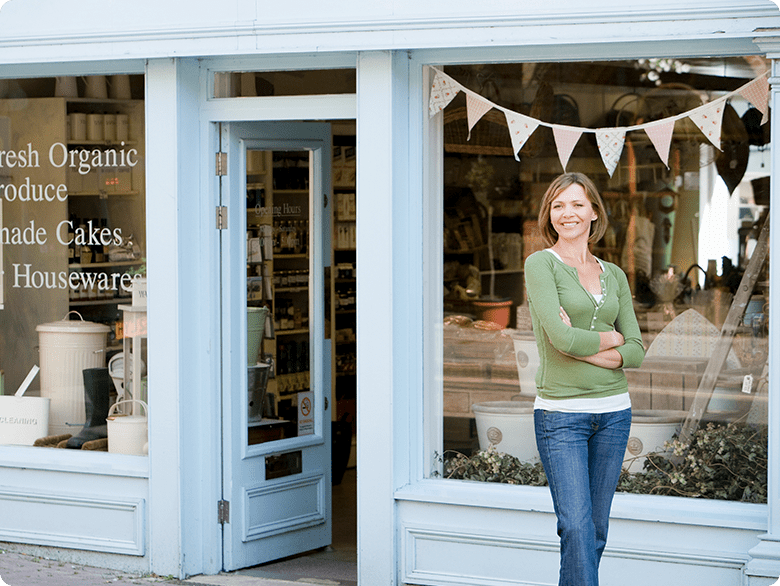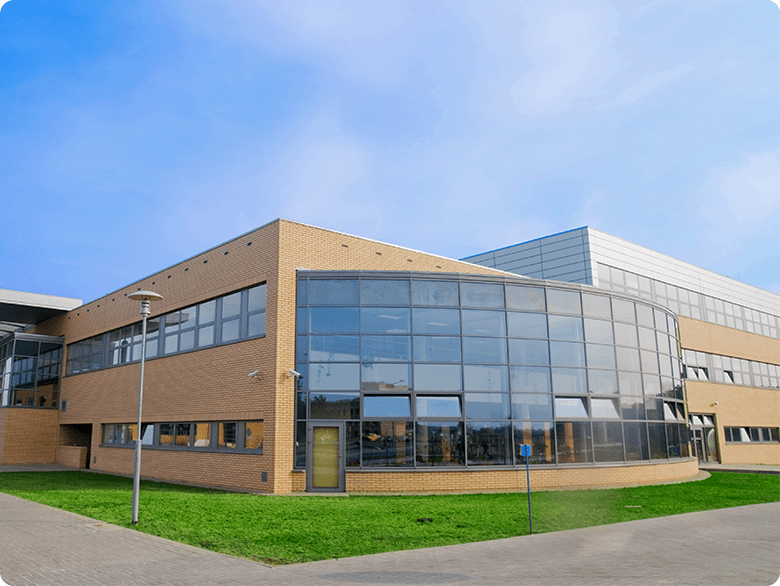 We all know the sun is intense here in Texas, and the heat is amplified on a window. If not treated, grime can eventually bake onto the window. We have the tools and equipment to safely reach up to four stories to take care of that grime, and we offer deals from one time per year, to bi-weekly cleanings..
We pride ourselves in our efforts to make the home a brighter, happier place. Why should that be any different within the workplace? An office can feel like home and it doesn't require as much effort as one would think. We would love to help your company feel more welcoming not just to guests but to employees as well. Everyone wants to feel at home somewhere, and cleaner windows can make that happen.
---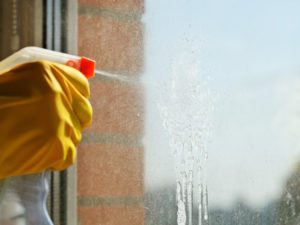 Windex does work better than using a dry cloth, though it isn't perfect. We still think that a squeegee needs to be used in order to take all that grease off the window at least once a year. A rag will always leave a little bit of residue on the window, no matter how fancy it is. Unfortunately, there isn't a magical solution that can be placed on a window to keep it clean longer. The best treatment for a dirty window is to take off any residue from the surface. Dirt is attracted to any kind of grease or even other dirt particles. This is why when a window starts to get dirty, the dust accumulates more quickly. Luckily in Collin County, we don't have as much dust in comparison to the west side of Texas. This will hopefully keep your windows cleaner for a longer duration of time."
Some quick tips to keep them fresher for a more extended period of time is to not burn candles or to change your air duct filters. These are the two most common issues that cause residue to accumulate on a home's windows. It is crazy how quickly windows can be dirtied by just one person. Don't feel bad if you pull up the blinds and find dust has made its way back there. Simply give us a call and we can check it off your cleaning list.
A Water Fed Pole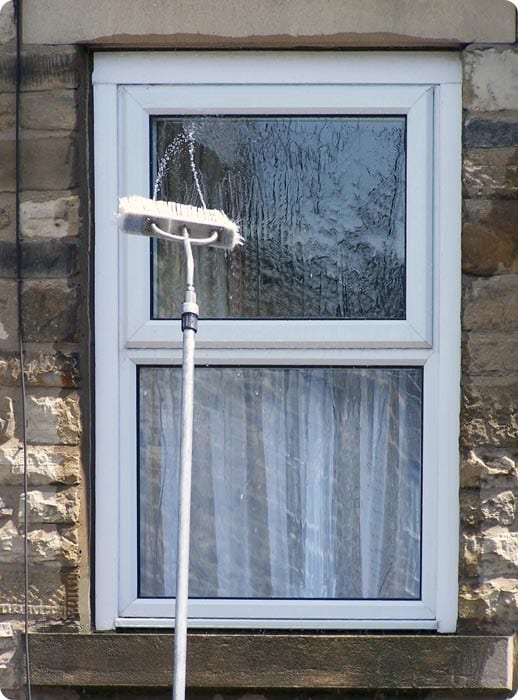 I wish I was referring to some kind of mystical creature that is fed by water that magically cleans your windows perfectly without any effort. That's kind of what I thought when I first heard this term; but it isn't. Due to more liability issues, this tool has become more popular. If someone has cleaned your windows before by spraying them with high pressure, then they were not trained properly, and I probably won't be able to convince you otherwise. This is no fault to you. I would think the same if I was not in the industry, however it is a tool that is gaining popularity as correct techniques are taught in the window cleaning community.
The reason why the window comes out cleaner with a water fed pole and not a high-pressure spray has to do with the special brush that is used in combination with the pure water used. We have a 4-stage filtration system that takes all of the impurities out of the water, which when used, leaves the window spotless. Another great benefit to using this tool is that it mimics rain water. Even using a rag can miss some impurities on the frame. If something is missed, it won't look clean. We have clients who prefer us to use the water fed pole because they see an obvious difference."
https://windowcleaner.com/waterfed-poles/understanding/overview-and-benefits/
High Indoor Window Cleaning
We have an amazing tool that can be used in light foot traffic areas, with minimal disruption to your everyday flow of work. We use a special microfiber cloth, along with a solution that attracts the dust to the pad instead of the window. By attaching it to an indoor water fed pole, this makes it possible to clean windows too high to reach normally inside of your business. It's an effective tool which provides results while also keeping customers and employees safe.